[HONG KONG, July 7, 2023] Micro Connect, a new financial market platform connecting global capital with China's micro and small businesses, today announced the signing of a US$15 million term loan facility with Hang Seng Bank.
The securing of this facility is a major milestone for Micro Connect as the Company continues to expand its suite of funding channels to support its capital deployment among millions of micro and small businesses in China. This term loan facility will help Micro Connect increase its origination capability as well as provide liquidity to more quality micro and small businesses in China that are in need of capital.
Charles Li, Founder and Chairman of Micro Connect, said, "We are pleased to have made this arrangement with Hang Seng Bank, the largest local bank in Hong Kong. Hang Seng's commitment to enhancing financial inclusion, promoting sustainability and mitigating climate change helps build a prosperous and sustainable future which matches with our motto to do good and do well to the Chinese consumer economy, we look forward to closer collaborations with Hang Seng Bank as a long-term strategic partner."
There are over 100 million micro, small and medium enterprises (MSMEs) and self-employed in China, which together make up 60% of the nation's GDP and 80% of job creation*. Yet, traditional products, including both debt and equity, are rarely well suited to the unique financial and investment needs of micro and small businesses. The facility from Hang Seng Bank will enable Micro Connect to grow its innovative new asset class (Daily Revenue Obligations) to give businesses more sustainable and affordable access to financing.
Donald Lam, Head of Commercial Banking, Hang Seng Bank, said, "Hang Seng is delighted that this facility will strengthen Micro Connect's ability to empower China's micro and small businesses, particularly those located in the Greater Bay Area (GBA), to adopt innovative solutions. The facility is one of the many initiatives under the Bank's Innotech Fund Progamme, which aims to drive broader financial inclusion, provides funding support for innovation development and assists customers to capture opportunities in China.  As part of our broad-based actions to deliver innovative solutions and promote new economy growth, we will explore more potential ways of working with companies such as Micro Connect to help more commercial customers capitalise on opportunities in the GBA."
This announcement comes as Micro Connect has just completed close to 6,000 investments in micro and small businesses in more than 200 cities across all 31 provinces in China since launch, a validation of its long-term vision to develop a new and more inclusive financial market with a new asset class. The Company also completed its US$70 million Series B equity raise in March 2022, with participation from Horizons Ventures, Lenovo Capital, and Sequoia China among others, bringing total equity raised to date to US$120 million.
Hang Seng Bank launched its US$200 million 'InnoTech Fund' to provide funding to help GBA companies integrate new technology into their businesses. The Bank will continue to expand its diverse range of innovative solutions to facilitate the growth and development of its commercial customers in the GBA.
*As of end-2021. Source: http://www.gov.cn/xinwen/2022-09/02/content_5707953.htm and http://www.gov.cn/shuju/2022-02/24/content_5675291.htm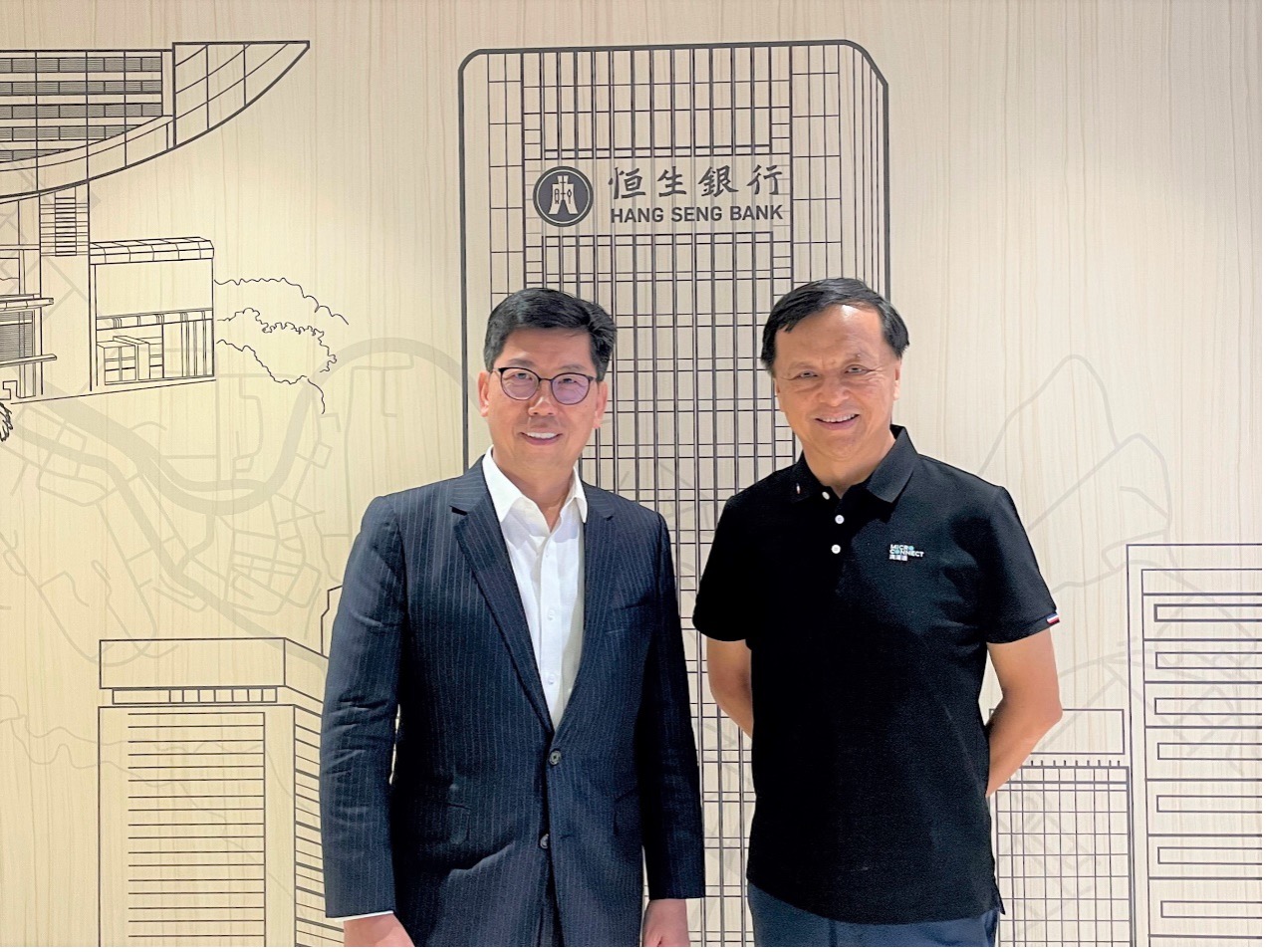 Charles Li, Founder and Chairman of Micro Connect (right) met with Donald Lam, Head of Commercial Banking of Hang Seng Bank (left) to discuss future co-operation.
For more information:
Micro Connect –  Media Contact:[email protected] | General Inquiry:[email protected]
Hang Seng Bank – Fiona Lau: (852) 2198 4231 | [email protected] 
About Micro Connect
Micro Connect is an exchange group that has leveraged financial technology to connect global capital with China's micro and small businesses. Through its innovative revenue sharing investment and financing model, stores in the sectors of Food & Beverage, Retail, Services, and Culture & Sports can raise convenient and affordable long-term capital by listing on the Micro Connect Macao Financial Assets Exchange (MCEX), the world's first exchange to trade revenue shares. The group's proprietary revenue sharing asset class, Daily Revenue Obligations (DROs), gives investors direct and diversified exposure to the daily and transparent cash flows of millions of stores in China's vibrant consumer economy, while making capital more accessible and affordable to business owners. With a fund platform, structured product solutions, and a licensed exchange, Micro Connect offers efficiency and liquidity in small business investing for global professional investors and a new alternative to impact investing. For more information, please visit www.microconnect.com and follow our journey on LinkedIn: Micro Connect | 滴灌通, and WeChat: 滴灌通 Micro Connect.
About Hang Seng Bank
Hang Seng Bank is celebrating its 90th anniversary this year. Founded in 1933, Hang Seng Bank has continually innovated to provide best-in-class, customer-centric banking, investment and wealth management services for individuals and businesses. It is widely recognised as the leading domestic bank in Hong Kong, currently serving more than 3.5 million customers.
Combining its award-winning mobile app and strong digital capabilities with a vast network of over 260 service outlets in Hong Kong, Hang Seng offers a seamless omni-channel experience for customers to take care of their banking and financial needs anytime, anywhere. 
Its wholly owned subsidiary, Hang Seng Bank (China) Limited, operates a strategic network of outlets in almost 20 major cities in Mainland China to serve a growing base of Mainland customers locally and those with cross-boundary banking needs. The Bank also operates branches in Macau and Singapore, and a representative office in Taipei.
As a homegrown financial institution, Hang Seng is closely tied to the Hong Kong community. It supports the community with a dedicated programme of social and environmental initiatives focused on future skills for the younger generation, sustainable finance and financial literacy, addressing climate change and caring for the community.
Hang Seng is a principal member of the HSBC Group, one of the world's largest banking and financial services organisations. More information on Hang Seng Bank is available at www.hangseng.com.